Say goodbye to those unwanted tattoos
Your trusted laser tattoo removal clinic in Sydney
When you need to have a tattoo removed, you need an experienced and knowledgeable team for the best treatment. We're the laser tattoo removal clinic of choice in Macarthur and throughout Sydney providing an exceptional service that yields incredible results.
Our qualified and fully certified laser technicians complete ongoing clinical training with industry expert medical practitioners to stay up to date and compliant with procedures. We provide a judgement-free zone for our clients and educate them while they are on this journey with us. Whether you want to fade a tattoo to make way for a new one, or completely remove it, choose Clean Canvas Laser Clinic for expert laser tattoo removal in Sydney.
What is laser tattoo removal?
Laser tattoo removal is the process of removing a tattoo using a laser that produces small pulses of light energy that penetrate the skin. As the pulses hit the tattoo ink, acoustic energy shatters the ink into tiny fragments. In the following weeks, the body's immune system will flush out the fragments which lightens the appearance of the tattoo.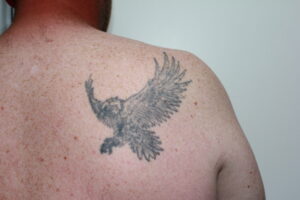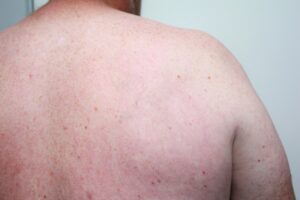 Laser tattoo removal with PicoWay
PicoWay is the leading tattoo removal technology and is our laser of choice. Measured by picoseconds – a trillionth of a second – the PicoWay device is around 13.33 times faster than other nanosecond devices. 
What does this mean for you? The faster the pulse, the less time the laser is actually interacting with your skin, which in turn leads to a faster treatment, a more comfortable treatment as well as a faster recovery time in that your skin is not subjected to the same levels of heat that are produced by a nanosecond device.
At Clean Canvas, you will be treated by Daniella or Noellina. They are the dream team that are fully qualified and certified laser technicians highly trained in skin type, skin response & device parameters to achieve maximum results whilst leaving your skin unharmed and scar free.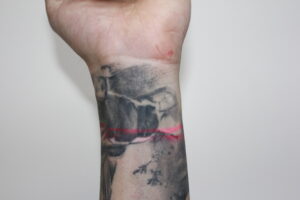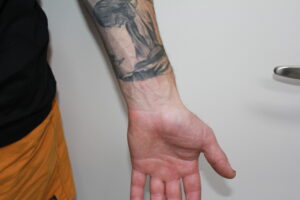 Interested in eyebrow tattoo removal?
Why choose Clean Canvas Laser Clinic
At Clean Canvas, we promise to always treat you, your skin and your tattoo as unique, and provide you with an outstanding customer experience. As your comfort and safety is our priority, we invest in leading industry technology to give you the best possible results in fewer treatments, without compromising your wellbeing. You are our focus, and that is what sets us apart. 
We are firm believers in the continual investment in training and development to ensure we are using the latest techniques and technology. We also ensure you are treated by the same operator at each of your sessions to ensure consistency and efficacy in your results.
But most of all, we are professional, discrete and love what we do!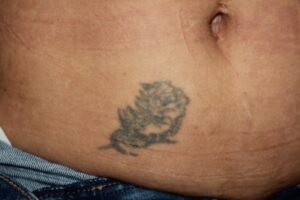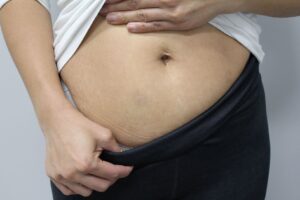 Are you ready to remove that unwanted tattoo?
Frequently asked questions
What kinds of tattoos can be removed?
We're able to remove decorative tattoos, professional, amateur, medical tattoos, scalp and cosmetic tattoos.
Does tattoo removal hurt?
PicoWay pulses are fast, so there is minimal discomfort, particularly when compared to machines with a longer pulse duration that induce a more thermal (heat) effect. Some customers describe the feeling as having similarity to the snap of an elastic band on the skin.
We want all of our clients to feel as comfortable as possible, so we have some comfort management options available.
You can use our cooling device, prior to, during, and after the treatment where required. The cooling air can help to numb the skin and make the experience more comfortable.
We can also apply a topical anaesthetic if that is your preference. If you would like to go ahead with this, please allow an additional 45 minutes prior to your treatment so that it may reach maximum numbing effectiveness.
However, if you were able to tolerate the discomfort of getting your tattoo, it's likely you will be able to tolerate having it removed.
Is tattoo removal safe?
PicoWay treatments selectively treat the tattoo while leaving the surrounding skin undamaged. Its ultrashort picosecond pulses allow for effective treatments with minimal risk of side effects. Its photo-acoustic energy delivery means that there is significantly less heat generated, reducing the risk and providing clearance in fewer treatments.
Can you remove my tattoos completely?
In the vast majority of cases we will be able to achieve 100% tattoo removal. Our PicoWay device's 3 picosecond wavelengths effectively targets all colours and includes fractional laser capabilities that stimulate healing and skin remodelling. Through a thorough consultation, we will assess your tattoo and your current health in order to advise on the level of clearance you can expect to achieve.
How long does each tattoo removal session take?
Your first session with us will consist of an in-depth consultation where we assess your tattoo, run through a current and historical health check, outline the tattoo removal process and give you time to ask questions. If you are an eligible candidate and decide to proceed, then we will more than likely go ahead with your first treatment and post care instructions right away. We allow an hour for this initial session.
Following sessions will generally be much quicker. They will be dependent mostly on the size of your tattoo and would generally be anywhere between 5 and 30 minutes.
If you opt-in to having a topical anaesthetic applied, then you will need to allow for an additional 45 minutes to an hour prior to each treatment. This is the time required to reach the most favourable numbing effect.
Do you have more questions? Read our blog for everything you need to know about laser tattoo removal.
Get in touch with our friendly team
If you have any questions or concerns, please get in touch. We'll respond to you as soon as possible