Promotions
Price often plays a large role in deciding which clinic will be right for you when considering laser tattoo removal or tattoo fading for cover up.
Sadly, if you are looking for bargain pricing, odds are, there is likely a reason for it being that way. Often the quality of these services will regrettably mirror the pricing.
Often the cost per session and the number of sessions required based on the technology being used and the tattoo type can be confusing and unpredictable.
We get that. The most common question we get asked is how many tattoo removal sessions will I need? Let us be straight with you…
This will differ for every person based on a number of factors and there is no one size fits all approach. The factors that will determine how many sessions you may need can include;
The depth & consistency of the ink
The age of the tattoo
The location of the tattoo on the body
Pre-existing scar tissue
Your overall immune health
Medical conditions you might have, etc.
So… we conduct a thorough consultation for each and every one of our clients so that we can give you the best possible indication and set you up with the right expectations from the beginning, rather than stringing you along.
In our experience you can expect most tattoos to generally be cleared within 4 and 10 sessions, often depending on the factors listed above. Tattoo Removal fading for cover up typically takes anywhere between 1 and 5 sessions.
To make life easier, we've simplified things. We offer packages where our clients can be rewarded in the form of discounts, complimentary after care as well as complimentary skin rejuvenation should your tattoo require pre-existing scar tissue break down or advanced healing.
We've created simple, interest free payment plans to help ensure that our clients have access to safe & effective tattoo removal without breaking the budget.
We can tailor your instalments to meet with your budget should you require it, and we also offer Afterpay.
Book your free consult now to obtain an honest appraisal of your tattoo and experience the Clean Canvas difference.
Cosmetic Eyebrow Tattoo Removal
Cosmetic eyebrow tattoo removal is sadly one of our most common treatments. Either the shape or colour has not been to the satisfaction of our client, or they have had multiple tattoos and need to clear them to start over with fresh brows.
The number of sessions required for successful removal of cosmetic eyebrow tattoos is largely dependant on the factors listed above as well as the number of times they have been tattooed and the overall number of pigments that the artist has used to create the perfect colour match for you. Typically removal is achieved anywhere between 1 and 6 sessions and the cost of these sessions is tiered depending on the treatment number you are at.
| | | |
| --- | --- | --- |
| EYEBROW TATTOO REMOVAL | | |
| Treatment 1 | | $180 |
| Treatment 2 | | $150 |
| Treatment 3 & up | | $120 |
Australian Service Men & Women
We are proud to offer an exclusive 15% discount off any full priced treatment for members of all branches of the Australian Police & Defence Forces and all Emergency Services Personnel.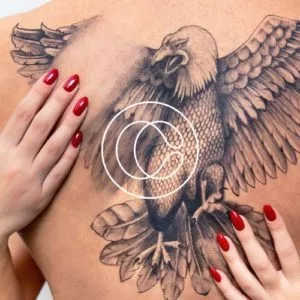 Removal Guarantee
In our experience you can expect most tattoos to generally be cleared within 4 and 10 sessions. Though like in anything there can always be an exception to the rule.
So to give our clients peace of mind, we offer a comprehensive tattoo removal guarantee.
Should you reach 10 paid sessions and your tattoo has not completely gone, then we will treat your tattoo for free for up to 1 year post your last paid session.
We are very confident in the capabilities of our PicoWay device and are highly trained in skin response, device parameters & the impacts of certain medical conditions in order to achieve the best results in fewer treatments, scar free.
There has been no better time than now to remove your unwanted tattoo. Book your free consult now and experience the Clean Canvas Tattoo Removal Guarantee.
Terms & Conditions Apply
Payment Options
Clean Canvas offers a number of flexible payment options. We accept payments via cash, Eftpos, Visa or Mastercard as standard. We also accept AfterPay and offer no interest payment plans via account direct debit. Talk to us about what works best for you and we can tailor a payment plan to suit.

---