In an ideal world, every tattoo would be something you love and want to look at forever, but this is not always the case. When you decide that you want to remove a tattoo, the next step is finding the right tattoo clinic.
So, how do you choose a tattoo removal clinic that is going to get you the results you want in a safe and efficient way? Here's what you need to ask yourself.
Are they qualified?
Tattooing may be an art, but laser removal is a science. You should check that your technician is qualified in laser removal and has received formal training. Ask about the practical training they have had; they may be able to show you images of previous client results. 
Remember that no matter how cheap they are, stay away from inexperienced or unqualified technicians. You could end up with a scar or a burn!
Is there a consultation?
Be wary of clinics or technicians who do not offer a consultation before beginning your removal. This is not just a professional courtesy, it is an essential part of the process that will let you know what you can expect going forward. Don't ever feel rushed or pushed to get a tattoo removal. A good tattoo removal clinic will take the time to explain the process to you.
If you want to learn more about tattoo removal before you book in, check out our blog – everything you need to know about tattoo removal.
Do they set realistic timeframes and results?
No tattoo is going to be gone in just one session, and in rare cases, tattoos may not fade altogether, rather creating a faded canvas that is good for a coverup. Your clinic should feel comfortable setting realistic expectations of the estimated time to remove your tattoo, and it should be based on your personal circumstances, including:
the type of tattoo

location of the tattoo on your body

your overall immune health and/or any underlying underlying health conditions you may have.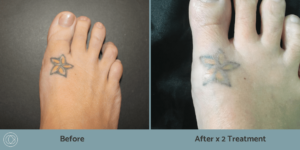 If they are not discussing these things with you in detail, then be wary if you are promised quick, or perfect results. 
It can typically take between 4 and 10 sessions for a complete removal, with sessions ranging between 6 and 12 weeks apart tailored to you and your circumstances. Less generally, if you are looking to cover up your tattoo with new, more exciting artwork.
In rare cases, some tattoos can remain stubborn but your clinic should be confident in their approach, and their technology to guarantee their work. Clean Canvas offers a 10 session guarantee, whereby if your tattoo is not cleared to your satisfaction in up to 10 paid sessions, then we will treat your tattoo free of charge for up to 1 year, post your last paid session.
What is the cost?
Price often plays a large role in deciding which clinic will be right for you when considering laser tattoo removal or tattoo fading for cover up. Sadly, if you are looking for bargain pricing, odds are, there is likely a reason for it being that way. Often the quality of these services will regrettably mirror the pricing.
While many clinics have estimates displayed on their website, it is important to discuss the exact cost given the size, age, and colour of your tattoo, among other factors. Often the cost per session and the number of sessions required based on the technology being used and the tattoo type can be confusing and unpredictable.
A clinic needs to be clear on price per session and how many sessions you can typically expect to need, based on your individual circumstances. The last thing you want is to have a figure in mind only to continue needing treatment with no end to cost in sight.
Ideally you want to find a clinic that offers capped pricing or at the very least a capped number of sessions you will be charged for. You know that they are passionate about your results when they offer pricing peace of mind.
Flexible payment options can really help to budget your removal. Package discounts and pricing plans are available at Clean Canvas from as little as $15 per week and span the course of your treatments so that aside from a small deposit, no lump sum is actually required. Transparent pricing with chargeable treatment caps are things to take into consideration when choosing your tattoo removal clinic.
Are you comfortable? 
This might seem less important than any of the other factors, but it might just be one of the most important. When you visit the clinic for a consultation, make sure that you assess how you feel about the professional who will be carrying out the work, and the clinic itself. 
If you feel that it is a clean, professional and calm environment and that you can ask questions and get answers, great! However, if you feel at all uncomfortable, it may not be the best clinic for you. You will be returning several times, so your comfort is paramount. Don't rush the decision – give yourself time. 
Are you looking to get a tattoo removed? Get in touch with us. At Clean Canvas Laser Clinic, we can help you to fade or remove your tattoo so that you don't have to live with something you don't love. We strive to be the best tattoo removal clinic in Sydney, so contact us if you want to talk about getting your tattoo removed today!