PicoWay is an advanced, non-invasive laser treatment that has revolutionised skincare. We all want healthy, glowing skin and PicoWay's breakthrough technology restores skin imperfections to create a clear, bright, youthful appearance. It works equally as effectively across lighter and darker skin types.
The PicoWay system treats irregularities such as acne scarring, discolouration, premature signs of ageing, and other conditions, including the removal of unwanted tattoos.
How does the PicoWay Laser work?
The PicoWay Laser targets specific areas of the skin, remaining gentle on the outer layers, as it has been designed to transform skin from the inside out. It is a fractional method, which means it leaves the surrounding skin unaffected. This, in turn, helps speed up the recovery of the treated area.
A picosecond is a trillionth of a second, and this ultra-fast pulsing of the laser optimises the delivery of energy to the pigmented particles of skin being treated. These highly-focused pulses of energy break up the skin pigments that are causing the problems. The body's natural processes do the rest.
The laser light also enhances the production of collagen and elastin in the skin, which results in a softer, smoother and often firmer complexion. The results are achieved in fewer sessions than alternative methods and are effective not just on the face but over the entire body.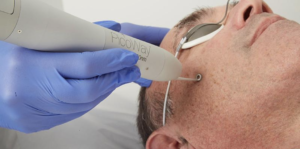 Which conditions does PicoWay Laser treat?
The PicoWay Laser can treat a wide variety of skin imperfections, including:
Skin discolouration
There are many reasons for discolouration of the skin, such as melasma, age spots, birthmarks, and sun exposure, to name a few. The PicoWay Lasers use a range of wavelengths for precision in dealing with the type of imperfection, as well as multiple ergonomic hand pieces. These hand pieces enable various split and full beam options for increased targeting in skin rejuvenation.
Acne scarring
If you suffered acne scarring in your younger years then it can prove long-lasting and difficult to remove. PicoWay Laser is effective on this kind of scarring. Shattering pigment particles at the micro-level brings about thermal injury, setting off the body's natural healing processes. Together with the stimulation of collagen, this healing process repairs and remodels the skin.
Tattoo removal
The PicoWay Laser configures different wavelengths to achieve the best result in the removal of tattoos that you no longer want, and even scarring from previous removal attempts by other less successful tattoo removal methods, or even from application of the tattoo itself. 
However, while darker colours are easier to remove, the PicoWay's multiple laser wavelengths allow for effective targeting of all tattoo colours. The speed of the pulse creates shattering of ink pigments and provides the fastest and most effective of modern methods.
The PicoWay Laser sessions usually last from 15 to 20 minutes, with little or no downtime after each session. You can be going about your life quickly and without any significant side effects to slow you down.
Choose a trusted PicoWay laser clinic in Sydney
If you are looking to have a tattoo laser removed, or you're interested in the best PicoWay treatment Sydney has to offer for acne scarring, tattoo removal and skin rejuvenation treatments, contact Clean Canvas Laser Clinic for further information, or to schedule a consultation.