Laser hair removal has become a well-known solution for the removal of unwanted hair in recent years. As the technology has evolved and become more readily available, hair removal in Sydney has become the top choice for many people looking to effectively get rid of hair from the arms, legs, bikini area or even the face.
If you've been considering getting laser hair removal, here's what you'll want to know.
How does laser hair removal work?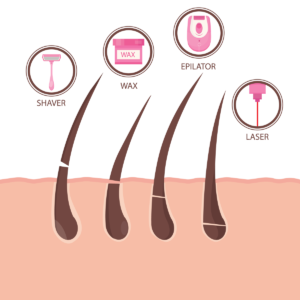 Laser hair removal provides an effective and quick way to remove unwanted hair from the body and face. The process involves using targeted light set to a specific wavelength to prevent hair growth from the inside out. Unlike shaving or waxing, laser hair removal affects the hair's melanin, making hair less visible in the long term.
What parts of the body are suitable for laser hair removal?
Laser hair removal is safe for use on most body parts when carried out by a trained expert. The bikini line, legs, armpits, and face are all common areas.
How should you prepare for a laser hair removal appointment?
In most cases, you should shave and clean the area to be treated on the day of your session. You should avoid using any product on the area, such as self-tanner, deodorant, and lotions, and avoid sun tanning for 2-
4 weeks prior to your appointment.
Is laser hair removal permanent?
Laser hair removal requires ongoing maintenance to work effectively. It isn't a one-and-done thing, but it can provide excellent, long-lasting results with regular upkeep. Following your first batch of sessions for initial removal, you may need to return after a while to continue to see the same long-term results. Some clients can go mon
ths (and even years) between their top up sessions! 
How long will it take to see a difference?
Using a Candela GentleMax Pro Laser, clients can see up to a 20% reduction in hair after their first session alone. Clinical studies have shown up to an 80% reduction is as little as 3-5 sessions.
How many treatments will I need?
The number of sessions you need can range from one appointment every four weeks to every eight weeks for the first six months. The exact volume of sessions can be discussed during your consultation to help achieve the best results possible.
Is it better to get laser hair removal from a professional?
While at-home laser treatments are now available, the technology and tools available at professional clinics will always provide better results. Working with a trained specialist who knows how to target unwanted hair effectively is far more likely to yield the results you're looking for. 
Choose Clean Canvas Laser Clinic as your trusted hair removal clinic in Sydney
If you're ready to make an appointment for laser hair removal, get in touch with our team for an initial consultation.